July 13, 2016 1:25 am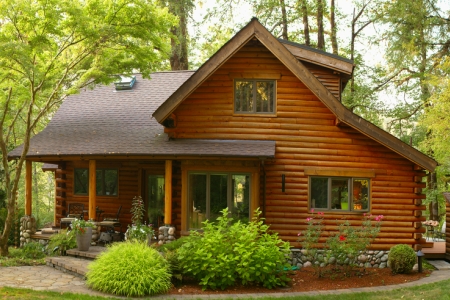 Log homes—an iconic symbol of Americana—are as sought-after as ever, partly because of their environmentally-conscious design and construction.
Log homes, according to the National Association of Home Builders (NAHB) Log and Timber Homes Council (LTHC) (LogHomes.org), are erected through a near-zero-waste process, with the entire log purposed in construction. Byproducts of their manufacture are mulch and sawdust, both of which can be used as fuel.
Log homes are also highly energy-efficient, especially if constructed with sealant, according to the LTHC. Logs by nature absorb and radiate heat at optimal times during the day, effectively regulating the home's temperature—"thermal mass."
The LTHC is one resource worth consulting for a log home build. LTHC log home builders not only adhere to a code of ethics, but also ensure structural integrity by grading their materials through third parties.
"The log and timber home industry emerged entirely out of consumer demand for this unique style of construction," said Log and Timber Homes Council Chairman Doug Parsons in a statement. "This distinctive style of home can suit any homeowners' needs, whether they're looking for a small cabin for weekend getaways or a multi-million dollar estate."
Source: National Association of Home Builders (NAHB)
Published with permission from RISMedia.